AKC Boston Terriers - Traditional tuxedo bostons!!! Show/pet puppies occasionally available!!
If you are interested in a Painted Puppy, the Puppy Application MUST be filled out- Please copy/paste to email and sent to me fully completed

Updated on September 13, 2017
Note:
I never have puppies just available - they are all spoken for via deposit before they are born. I have not had to go to my No Obligation Waiting List for years- the advance Deposit List takes all my puppies. My Deposit List is located on the LITTERS DUE page under the litters I have due and litters I have planned. Just scroll on down. If you would be interested in a future puppy, there is an Application to be filled out. Thank you.
Fill out the
Puppy Application
if you are interested in being on one of our puppies !!!
$1700 - $2000 for Pet- Spay/Neuter
Agreement
I NO LONGER offer Full Registry to Breeding homes. ALL puppies are adopted on Spay/Neuter agreements.
Note: Agility or Obedience can be competed in with a spayed or neutered
Contact us if you'd like to be placed on our No Obligation Waiting List. Any breedings and puppies will be posted.
However in the last few years, all puppies have been spoken for via deposit placed/in line to pick, before they are born and have even been bred for.
Please fill out an Application and send it to me copy/pasted to email if you are interested in a Painted Puppy.

WE REQUIRE THE NUVET VITAMIN!!! PLEASE USE CODE # 18761 TO ORDER. 1-800-474-7044
If you are interested in any puppy from any litter, either born or a planned breeding, please feel free to email us at [email protected]
Click to view previous experiences > TESTIMONIALS
Click to view Heath Guarantee > Health Contract - Guar.
Click to see > What to expect from your puppy
Check Dogfood Ratings > http://www.dogfoodadvisor.com/
CLICK TO ACTIVATE ANY MICROCHIP Microchips implanted for $30
GREAT PRODUCT!!!! Check it out!!! Diatomaceous Earth http://wolfcreekranch1.tripod.com/diatomaceous_earth.html
  RECOMMENDED PUPPY KIBBLE  and Soft Holistic Treats -- Royal Canin Mini Puppy and then when they are almost a year old, slowly switch to Taste Of The Wild.   
  Great puppy treats!!!    
*************NOTE************
When puppies go to their new homes, they are eating ROYAL CANIN MINI PUPPY.  Please have some of this on hands when your baby goes home. (can get at PetSmart and other pet stores).  They will need 3-4 meals a day until they get a little older- as much as they can eat in 20 minutes each feeding.   
When they are almost a year old,  I recommend to switch them gradually to Taste Of The Wild adult- all age group foods, that is totally grain free.   (I also like Fromm and Earthborn)

**Taste of the Wild is formulated where you can rotate the flavors so your fur family member will not tire of a certain flavor.  They make several different varieties now!!   We really like coat and health of our Bostons from the kibble that we feed.*************** 
Puppies cannot be held without a Non-refundable deposit.  Deposits are $350 to be applied towards the full adoption fee.
If you are going to be using Paypal, please let us know and we will send you an invoice with the Paypal fee added on.  On $350 deposit, the fee is $12, making your invoice $362. 
If you are mailing your deposit in US Postal mail, please notify us when you put it in the mail and your choice of puppy will be place on Hold for 3 days, giving your deposit time to arrive, before the puppy is placed Available for someone else.
 THE PUPPY APARTMENT FOR HOUSE TRAINING YOUR PUPPY- One bedroom/one bathroom!!!
EXERCISE PENS that I recommend on Ebay-
http://www.ebay.com/itm/Black-EliteField-Exercise-Pen-with-8-GROUND-ANCHORS-Crate-Cage-Kennel-5-Sizes-/130731538658
http://www.ebay.com/itm/36-Gold-Pet-Dog-Cat-Play-Exercise-Pen-Fence-w-Case-4G-/280667232347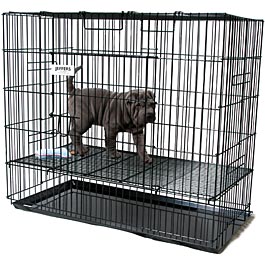 Puppy Playpens
Designed for raising puppies and are ideal for families that have to work and need to leave your puppy in a safe yet comfortable place while gone.
Playpens come in a variety of sizes / the ideal size for one puppy is the 36 x18
They have a top that opens which makes it easy to get to your puppy
and clean the crate.They also come with a gate which works great when converting the crate over to a standard crate when the time comes.
You can use Puppy Pads or News Paper in the pan on the bottom.
All of our puppies are raised in a playpen once they are weaned
so they are familiar with them when they leave.
We suggest that you still apply housebreaking methods when ever possible
but in the mean time these pens will make your life easier
when taking a new puppy home.
Jeffers® Puppy Pens
Precision Pet Products
Keeps Puppies Safe and Clean!
Whether transporting puppies, safeguarding them at shows, or even protecting furniture
from their sharp little teeth, puppy pens solve many needs.
•Hygienic Floors - Won't Pinch Paws
•Folds Flat for Easy Transportation and Storage
•Adjustable Elevated Floors Keep Away from Dirt & Mess
•Top and Side Doors for Easy Access
•Pans Slide Out for Easy Cleaning
•Coating: Chrome
DUE TO THE NEW LAW AND RULES AS OF NOVEMBER 2013  <>  WE MUST NOW MEET W/ YOU TO GET YOUR PET PUPPY TO YOU. I can meet you either in vehicle, or at the airport or I can fly your puppy to you.                I will do my best to get your puppy to you while complying with the new rules--whatever will work in getting you your baby!!  CONTACT ME FOR MORE DETAILS.
Check out our Comments/Testimonial pages for previous adopter happy experiences with Painted-S Bostons!!
If I Didn't Have Pets.. I could walk barefoot around the yard in safety. My house could be carpeted instead of tiled and Laminated. All flat surfaces, clothing, furniture, and cars would Be hair-free. When the doorbell rings, my home wouldn't sound Like a kennel. When the doorbell rings, I could get to the door without Wading through all the fuzzy bodies who beat me there. I could sit on the couch and my bed any way I wanted, Without having to take into consideration how much Space several fur bodies need to get comfortable. I would have enough money, and no guilt, to go on A real vacation. The most used words in my vocabulary would not be: "out," "sit," "down", "come," "no," "stay," And "leave it ALONE. My house would not be cordoned off into zones with baby gates and makeshift barriers. I would not talk 'baby talk'. 'Eat your din din'. 'Yummy Yummy for the tummy'.. My house would not look like a day care center, with toys everywhere. My pockets would not contain things like poop bags, treats And an extra leash. I would no longer have to spell the words B-A-L-L, W-A-L-K, T-R-E-A-T, O-U-T, G-O, R-I-D-E, S-U-P-P-E-R, And C-O-O-K-I-E I would not have as many leaves INSIDE my house as Outside. I would not look strangely at people who think having ONE dog/cat ties them down too much. I'd look forward to spring and the rainy season instead Of dreading 'mud' season. I would not have to answer the question: 'Why do you Have so many animals?' from people who will never know the joy of being loved unconditionally by the closest thing To an angel they will ever encounter. ... My life would be incomplete.
Once deposit is received, new parents will receive updated pictures via email to be a part of his/her life from the beginning. When they are playing good, we will take video clips and post to our website.
We do the microchipping on your puppy before he/she leaves for an additional $30 and provide the paperwork to register the microchip or it can be activated by the link provided on this website.
 AKC INSPECTED AND APPROVED! 2013 !!